Hepburn & Hughes, Jewellery and Cufflinks Specialists
Our exquisite range of high quality sterling silver jewellery and wide selection of cufflinks is made using natural products, prehistoric materials and upcycled WWII memorabilia to create striking jewellery and gifts for everyone. Shopping with us makes your gift buying simple.
What Our Customers Say
Here are just a handful of our 5-star reviews. You can view more reviews on Trustpilot and Etsy.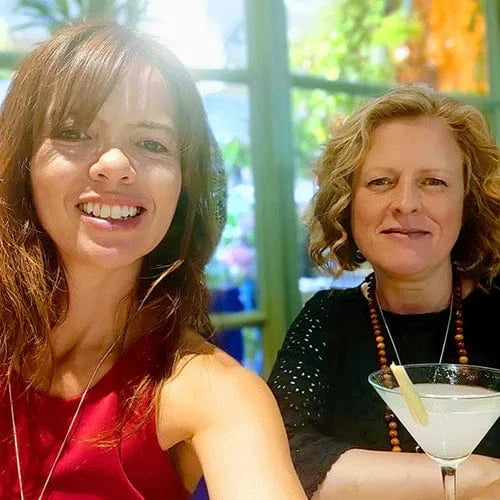 Hepburn & Hughes
We are Zoe and Louise, and we are passionate about creating unique, interesting jewellery and cufflinks which simply can't be found elsewhere on the high street.
Our speciality is sourcing pieces of historical memorabilia, such as World War II planes, pieces of the Berlin Wall and reclaimed pieces of HMS Victory, upcycling them into unique sets of sterling silver cufflinks and jewellery.
These make perfect gifts for birthdays, Christmas and anniversaries and prove very popular for weddings. We have designed our own unique collection of Art Deco jewellery and cufflinks, some in monochrome tones celebrating the shapes of the era, and a range using damaged Clarice Cliff ceramics.
We also offer a wide range of gemstone jewellery and items from the natural world, such as ammonites and dinosaur bone fossils. We hope you enjoy browsing in our shop.
Zoe & Louise x
Christmas is around the corner, and with the festive season upon us it's time to start thinking about gifts. Jewellery can make the ideal present for many reasons: it can be sentimental, versatile and even customisable. Here we will talk about some of our favourite or most popular jewellery pieces and why you might consider gifting them this Christmas.
At the end of term, we all want to thank our teachers and be sure that they feel appreciated for all the hard work they have been putting in throughout the year. In this article, we will be giving you the best and most unique end-of-year teacher gifts for students to give.
Whether you are looking for the perfect present for a loved one born in July, or as a July baby yourself, you are looking for a jewellery piece that represents your birthstone - we've got you covered.